Salad Bikes
Produce on Wheels! Introducing the Icicle Tricycles Salad Bike. A custom-built cargo bike for produce. Fruit and Vegetable vending workhorses for your mobile produce business.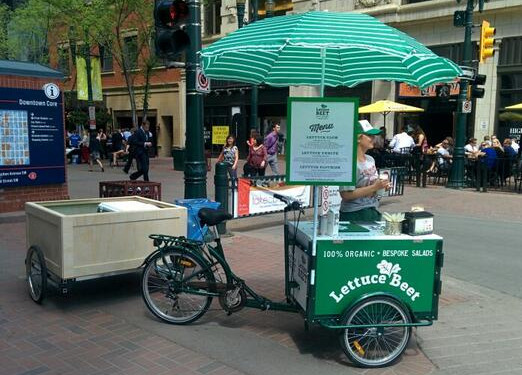 A great solution to food vending, product sampling, marketing, and distribution. A perfect compliment to any farmer's market vendor or healthy foods campaign. An Eco-friendly, carbon neutral business plan for rolling out nutrition to the public. Pedal-powered produce!
No more muscle strain from pulling a hand-cart full of carrots! No wobbly and cumbersome cabbage head bike trailer to worry about! Just a compact, fully customized, and constructed salad machine! A complete package, ready to roll when you are. No Ikea construction, small complicated parts nonsense! Just a compact and fully constructed produce bike.
Our Salad Bikes are a fantastic way to get fruits and vegetables to wherever people are low on vitamin C and iron!
Beat the food truck traffic by scooting around in a salad bike vending cart. Ditch the food truck and hop on a produce bike, fruit bike, salad bike, banana on a stick bike, or whatever you dream!
Start up a pop-up restaurant, mobile catering company, or add one as a restaurant delivery vehicle. Or just for the heck of it! Icicle Tricycles Fruit and Vegetable Bikes are the new way to market produce!
Our Salad Bikes are also a perfect fit for produce and grocery advertising! Either as a mobile produce hot spot, or used as a grocery delivery bike, the Icicle Tricycles Salad Bike is a superb way to create unique produce experiences.
You also get the upper hand when it comes to food truck pileups! Just hop on, wheel around, and sell while people are walking over to your competitors! All while from the comfort of a big cushy seat! Contact us today to get rolling with an Icicle Tricycles Salad Bike.
Don't just be your own boss, be a mobile boss! Whether used to sell fruit or vegetables, our Produce Trikes can be custom built to your specifications! With comfortable seating, 7 speeds, swift maneuverability, and plenty of storage, the Icicle Tricycles Produce Vending Bike is a convenient, dependable, and specialized way to market, advertise, and sell fruit and vegetables.
Our salad bikes are also a fantastic tool as a vegetable distributor. Grab a produce bike and use it as a dedicated restaurant delivery bike. Absolutely perfect to wheel on down to a farmers market for a days worth of fresh produce. A splendid food distribution solution.
Avoid expensive power and propane costs with traditionally big food carts and trucks. Get away from the static locations brick and mortar. Hop on and pedal out to farmer's markets, city events, parades, sporting events, parks, public squares, and more.
A hand built, fully customized Icicle Tricycles Vending Cart Salad Bike is the ultimate solution to your need for a produce business on wheels! Contact us to get your business rolling. We have a long and dedicated history in vending by bicycle. We know vending. We know tricycles. Get an Icicle Tricycles solution. Contact us to get rolling!