We make ice cream bikes, coffee bikes, cold brew bikes, food bikes, book bikes, experiential marketing and advertising bikes, and more!
Icicle Tricycles is a company empowered by a long and rich history in the commercial cargo bike industry. Our family legacy of bike couriers started in Oregon's capital in 1935, then found itself in the tundra of the Yukon Valley with a trike full of popsicles. Since 1999, we have been building, operating, and perfecting our cargo trikes for your business!
We've delivered flowers on three wheels, and delighted weddings, summer camps, and religious groups with ice cream and other frozen treats. Our sister company delivers 10,000 copies of the Portland Mercury on an Icicle Tricycles fleet every Wednesday, in rain, sleet, snow, or shine–but mostly rain. In the ever-evolving world of business and technology, there are some things that remain tried and true, and we're not afraid to stick to the basics.
Your business will not go unnoticed when it is on a bike. Whether you are promoting a brand through experiential marketing, or selling your product directly, riding your trike through city streets and festivals, or parking it in your restaurant or at a farmers' market, Icicle Tricycles will always draw a crowd.
Icicle Tricycles can be found rolling all over the United States, Canada, and the rest of the world. We have built trikes for small summer businesses, Fortune 500 companies, and everything in between. Our famous ice cream trikes are just the beginning. We provide fully customized trikes to deliver your brand, message, and product right to your target customers. Coffee bikes, beer bikes, juice bikes, salad bikes, soup bikes, donut bikes, a bike decorated with your logo to just ride around town–you dream it, we can help you build it.
Our cargo bikes are a reflection of our passion for entrepreneurial spirit, environmental sustainability, and cycling. We have a long history of providing fully coordinated, turnkey marketing campaigns utilizing our custom marketing bikes, and we love sharing business ideas that we've generated over the years to help companies and communities grow.
We are proud of what we do and admire the hard work and ambition of our customers. We'd love to help you get your business rolling.
Send us an email at [email protected] or fill out our contact form to get started.
Our Mission
Our mission is to help new and existing businesses to get rolling! Our cargo bikes are a reflection of our passion for entrepreneurial spirit, environmental sustainability, and cycling.
We love sharing business ideas we've generated over the years to help companies and communities grow! We are always happy to be a resource. No need to reinvent the wheel!
We are devoted to fostering bike-businesses from Ice Cream Bikes to Bicycle Cafe fleets, to Book Bikes or branded Margarita Bikes – Whatever you can dream, we can help make a reality!
We provide fully customized Advertising Bikes and Marketing Bikes to deliver your brand message directly to your target customers.
From our standard options to our wood burning and laser engraving services, we offer a full range of design features to boost your brand. We can help your cargo bike dreams come true with custom vinyl graphics, powder-coats, and specialized builds to show off your brand.
Community
Icicle Tricycles goes way back. From our days peddling popsicles all the way from the tundra of Canada to the bridges of Portland, we've been nourishing communities with sweet treats and products from trikes for many years.
From our Ice Cream and Popsicle Bike to our Newspaper Delivery Trike, or on our flagship Flower Bike, we have a long and dedicated community history in vending and product marketing.
If you're looking for how to start a business on a bike, we've got the wheels for it! We understand every step of the process, all the way up from the frame foundation to rolling out on the road.
From hot and cold food and drinks to bikinis, we can build you a bike that fits the image of your business. We have real street vending experience. We also have a passion for bicycles – our whole team bikes to work!
We take pride in not only providing great vending bikes but also in offering to help with business and cycling advice to new entrepreneurs.
If you're looking for how to start a business on a bike, we've got you covered!
Our Specialty
We know how to market, advertise, and distribute products. From ice cream to coffee, and flowers to jewelry, we have a long history of providing fully coordinated, turn key marketing campaigns utilizing our custom marketing bikes.
From our world famous Ice Cream Bike to our new Cold Brew Bike, or our flagship Flower Bike, we have a long history of product marketing, distribution, and vending.
With our passion and years of experience pedaling and building commercial cargo bikes, we can help your new or existing business to get on the right path – the bicycle path!
Why be stuck on the side of the highway on a billboard, when an Icicle Tricycles Advertising Bike can roll directly to your target audience!
From our Cold Brew Bikes to our Clothing Bikes, we've built a bike for just about any bicycle business venture you can dream up. Wheels to get your business rolling!
Our Experience
Meeting tight timelines and providing beautiful custom marketing bikes for product sampling, marketing campaigns, and business start-ups is just another day at the shop for us at Icicle Tricycles.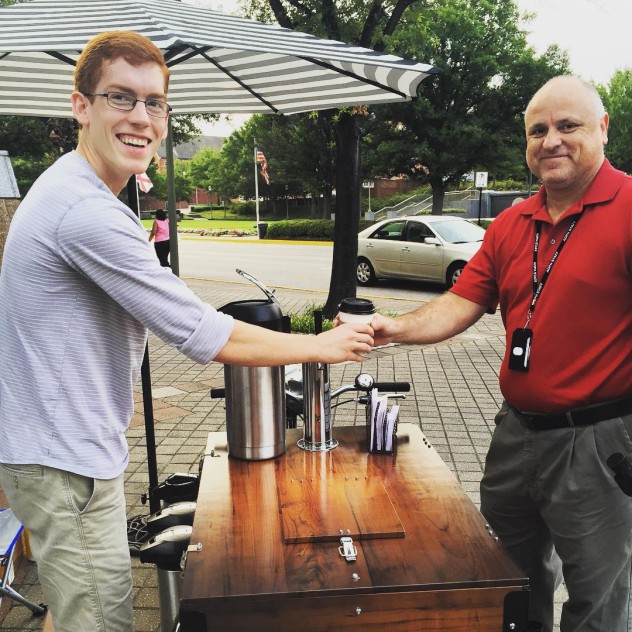 From businesses big and small, from homegrown cargo bike entrepreneurs to Fortune 500 companies, we've built for the best:
No matter what the size of your business is, we design cargo bikes to get any business rolling!
What Our Customers Have To Say
"Outside of the concept being fun and easy to plug into any event, the people at Icicle Tricycles are great. We had a short notice order for two bikes, and they did just about everything they could to expedite the process. The bikes arrived in time, in great shape, and performed beautifully. They're high-quality units and the people clearly are passionate about their work."
Customer Google Review
"Ryan, mate, you have made the process easy and enjoyable!"
Jesse Benson – Surry Hills, New South Wales, Australia
"Thank you, we love it!"
Fairmont Olympic Hotel
"Icicle Tricycles made our super sampling for the Gold Cup, Timbers, and Thorns matches so much more effective! With this unique mode of distributing product it really grabbed the attention of fans and passerby's alike! Ryan and the whole team at Portland Pedals are great to work with, and very accommodating to our ever-changing schedule and last minute adjustments. Very impressed by the on call maintenance team and their ability to make fixes when needed. I would highly recommend an Icicle Tricycle to spruce up a promotional event or private party."
Leo Pichette
Community Outreach Coordinator, Golazo All Natural Beverages
Contact us today to get your business rolling!