The Icicle Tricycles Personalized Pedal Powered Mobile Coffee Trike Business. Coffee bikes!
Coffee Bikes for sale! We hand-build coffee trikes for vending, marketing, and product distribution. Start a mobile coffee cart business and peddle coffee on a bike!
Our coffee bikes come with full customization options (for both hot and cold brew coffee) and are personalized to your liking. You are your own coffee boss with an Icicle Tricycles Coffee Trike! Our coffee tricycle is the perfect low-overhead mobile coffee bike business.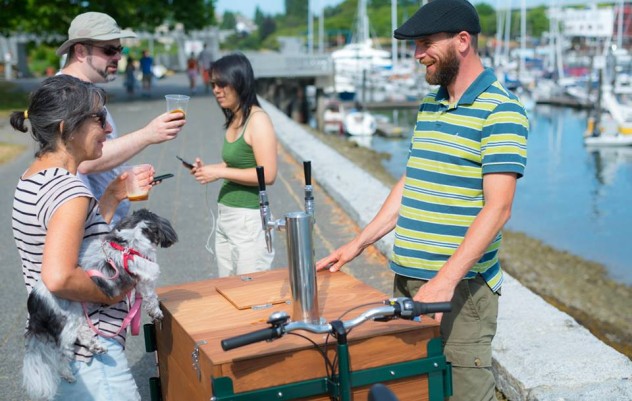 Roll Out!
Ideal for catering events, or delivering and selling hot coffee and lattes all over town to farmers markets, street fairs, businesses, conventions, and other venues.
Why be stuck in a gas hog coffee truck or some java shop prison?! Jailbreak your coffee business from the confines of gasoline, brick, and mortar. Hop on and pedal coffee directly to wherever people are thirsty. The perfect peddling machine!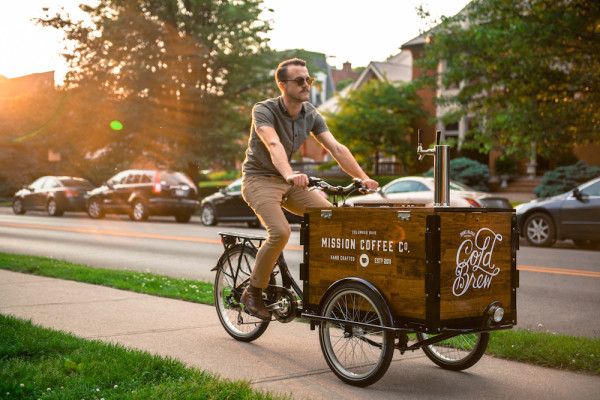 Contact us today to get your Icicle Tricycles Bicycle Cafe rolling.
Our coffee trikes are easily maneuverable, and with a size that will fit snugly into just about any small space (including most SUV and Truck sizes), you can ride out and set-up a mobile coffee shop trike just about anywhere.
Startup your own pedal-powered mobile bike cafe business with ease. The Icicle Tricycles Coffee Trike for sale is the only one that makes selling coffee feel like you're on vacation!
Relaxed ergonomics for a comfortable bike ride and with a hand-built look that will always grab attention. Best of all, you can change your business location at any time! Simply sit down and enjoy the ride. That's all there is to it!
Just you, your coffee bicycle, your name, your graphics. No boss, no employees. Simply just your own. A vehicle for business or pleasure – and especially coffee. Compact and conveniently sized to roll outside and inside.
Our coffee trikes can fit through standard ADA accessible hall and doorways with ease. You can pedal up to the top floor so even the people up top can enjoy a fresh cup!
No need to be stuck with prefabricated franchise graphics. Your own creativity and your own rules. Be your own boss with an Icicle Tricycles Coffee Bike build. We encourage creative thinkers and dreamers, helping you to roll out a business plan that you can call your own. If you dream it, we build it.
Each Icicle Tricycles Coffee Trike for sale is built to order, and according to customer specifications. We can include custom plumbing and electronics to outfit your desired espresso machine and grinder.
Or skip the weight by ordering our Pour Over Coffee Bicycle- – compact, easily maneuverable and perfect for making delicious cups of coffee with little to no effort. Simply ride out with pre-ground coffee and hot water. We are experts at covering espresso and coffee trike business needs.
We also make a cold brew coffee bike, cold press coffee bike, and an iced coffee bike!
Start the Bicycle Cafe or Espresso Coffee Trike process by contacting us at: [email protected]. Our coffee bike is hot and ready to go when you are! [box]Please contact us to get your coffee bike rolling! »[/box]
Hot Coffee Bikes for sale!