Food Vending Carts Powered by You! Pedal to Peddle!
Similar to the operations of a food cart or truck, a food bike business is a fully operational mobile food service station. An eco-friendly, carbon neutral, commercial utility vehicle to advertise, distribute, and vend food!
Our food vending carts are engineered for food convenience – expedient, compact, food service delivery machines!
Icicle Tricycles a long history of rolling out food bike businesses. We've custom-built a wide variety of food bikes from cupcake bikes and doughnut bikes, to salad bikes, ice cream bikes, and more!
A fantastic way to get food and drinks to wherever stomachs are grumbling! The Icicle Tricycles Drink and Food Vending Cart solution. We know food. We know vending. We know bikes. Food Bikes!
Beat the food truck traffic by scooting around on a beverage bike or food bike business. A food vending cart powered by your feet!
A vending bike you can peddle with! An eco-friendly, environmentally sustainable, carbon neutral business plan with wheels!
Roll out and sell food. Contact us when you're ready to roll – our bikes are shipped fully constructed and ready to roll when they get to you! Either as a mobile food and drink hot spot, or used as a food and beverage delivery bike, Icicle Tricycles' Food and Beverage Bikes are a superb way to create unique dining experiences.
You also get the upper hand when it comes to food truck pileups! Just hop on, wheel around, and sell while people are walking over to your competitors! All while from the comfort of a big, comfortable, cushy seat!
Don't just be your own boss, be your own mobile boss! With comfy seating, 7 speeds, snappy maneuverability, and plenty of front cargo storage space, an IceTrikes Cargo Food Bike is a dependable and specialized way to market, advertise, and vend food and drinks.
Our food bikes are also a fantastic tool to be used as delivery vehicles! Grab your food bike and use it as a dedicated restaurant delivery bike! Absolutely perfect to load up the morning bread run or to wheel on down to the farmers market. A splendid food distribution vehicle solution!
Avoid expensive power and propane costs with traditionally big food carts and trucks. Get away from the static locations brick and mortar. Hop on and pedal out to farmers markets, city events, parades, sporting events, parks, public squares, and more.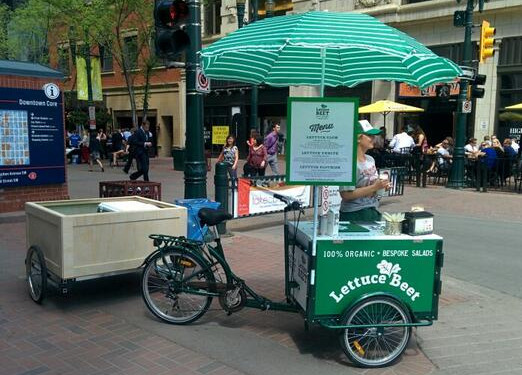 A hand built, fully customized Icicle Tricycles Vending Cart Bike is the ultimate solution to your need for a food and beverage business on wheels!
Contact us to get your food bike business rolling. We have a long and dedicated history in vending by bicycle. We know vending. We know bicycles. Get an Icicle Tricycles solution! Contact us today to get your food bike business rolling with an Icicle Tricycles Food Bike!
An Icicle Tricycles Food Bike Business is a great way to get gastronomical! We offer a variety of custom build options for your food and beverage vending cart bike needs. We offer customized panels, wood paneling, laser engraving, and custom graphics to match just about any style you can think of.
Your bike, your design, your style, your logo. Fully constructed by experienced bike mechanics and designers. Shipped to you, ready to roll when it arrives! Contact us when you're ready to get out and feed people!