Work at a Business Campus? Icicle Tricycles' Retail and Corporate Bikes for your Company Park
Corporate Bikes for sale! Icicle Tricycles hand builds custom retail and corporate bike fleets for business campuses and parks. Specially designed to roll out your business message and company lifestyle. Mostly though, an eco-friendly, pedal powered workhorse that's suited for just about any job. A corporate and retail bike fleet that's perfect as a quick and nimble treat hand out machine or excellent as an audiovisual equipment carrying superstar! Also great as a beverage service vehicle- roll out the morning coffee all over campus (hot or nitro cold brew). A great way to pour some positive energy into your business!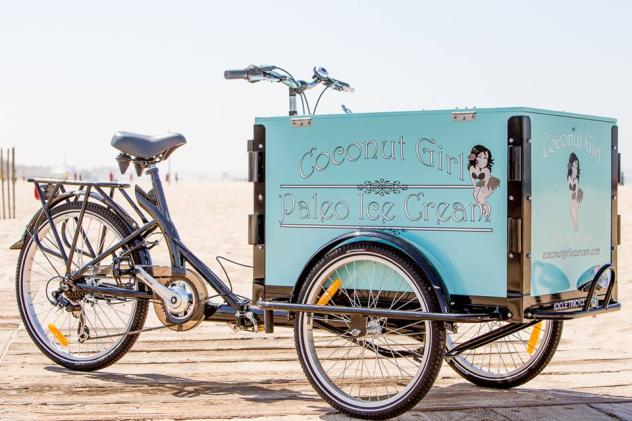 Whatever your business, it's always good to have a set wheels. Our bikes are a fantastic compliment to any business that sprawls over city blocks. Perfect for a business campus, amusement park, or film studio. A dependable workhorse that's powered by you. No gas, no dead batteries, and just compact enough to be out of the way and totally convenient at the same time.
A perfect grip vehicle, PA standby, or just to add as a bike friendly workplace endorser.
They also come built with your company logo (or not). Custom built by hand, fully constructed and ready to roll when they arrive. Hop op, pedal out, and drive up your market share! Or hand out freshly chopped salads to your employees!
As well as a fantastic campus utility and vending vehicle, our IceTrikes works in tandem as an advertisement – and one that's actually good for your health! Pedal out that midday business stress and hand out ice cream or popsicles at the same time! Or roll out from lot to lot and make sure employees are hydrated with your own Water Bike. Or use it as the new company catering bike! Whatever your needs are, there is probably a bike for it.
Whether you're at Google, Facebook, HP, or Universal Studios, our cargo campus bikes are built with your needs in mind. Hand built to order and ready to roll right out of the packaging. Ditch the grip truck, leave the company gas card at home, and pedal. The IceTrike Googleplex Bike is a corporate campus bike fleet solution. Contact us today to get your corporate bike share fleet rolling! We've worked with Facebook, Yahoo, UC Irvine, and more.