Choices, Choices, Choices …
Icicle Tricycles' Frame Color Choices!
Meet the Icicle Tricycles powder-coats! Along with our full customization box options, we offer a wide variety of frame colors – a multitude of choices to accentuate and show off your brand! The perfect way to exhibit your product in just the right light!
Icicle Tricycles frames come in white, red, blue, green, black, pink, and a variety of colors in-between. We stock our colors according to demand. Contact us for our options, such as Royal Blue, Dark Red, Lime Green, Magenta, and more!
We're always happy to help, with plenty of experience matching customer designs to the color combo that best suits the job. We've seen some pretty wild stuff!
Whether you're looking for something that pops, something to blend in with the crowd, or something totally new and different, contact us when you're ready to roll out your colors!

Black.
Want to create a subdued, sleek, and powerful cargo workhorse? Try black on black to promote utility and simplicity.
Red.
How about a red hot, speedy looking race horse? Try our Red or Dark Red options to accentuate expediency and quick customer service!
Blue.
Blue's a look that's tried and true! A frame color that's bold and friendly at the same time! A comforting, strong color that can help accentuate a brand that speaks both friendship and business.

Green.
Create your very own green machine! A frame color to show off your company's push for green solutions and environmental awareness. A color that's both bold and relaxing. A great way to accentuate your brand as one that's grounded, reliable, and easy on the eyes!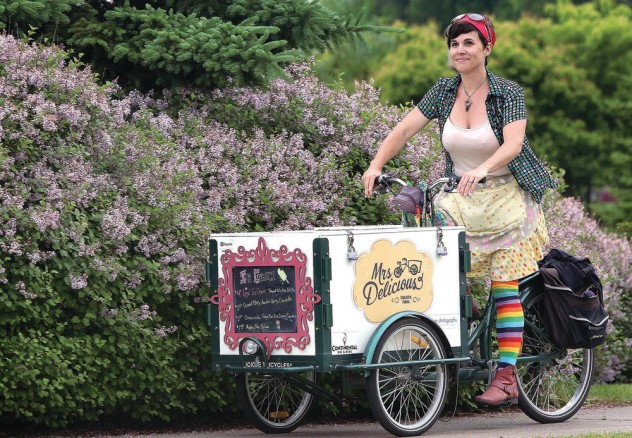 White.
The go to color for catering, weddings, hotels, and more! The perfect way to stand out, while also looking approachable and easy to read. An excellent choice for brands promoting dining services, anniversaries, and weddings.
Pink.
Show off your love! Contact us to get your pink on! A nearly perfect color for any product and for any occasion. A great way to show your love!
Start promoting or selling products with the power of environmentally sustainable mobility. Multi-color cargo bikes are ready to roll out your business plan when you are! A unique and economical approach to owning your own mobile business.
We ship all over the U.S, Canada, and beyond! Contact us with any questions about your mobile cargo bike business needs, big or small! We are happy to share our cargo bike business advice!
[box]Please contact us to get your custom color trike rolling! »[/box]