The Icicle Tricycles Standard Cargo Bike! Excellent as a start-up vehicle for your new or existing business. A great way to free yourself from the confines of brick and mortar!
Start promoting or selling products with the power of environmentally sustainable mobility. Our Standard Cargo Bike is ready to roll out your business plan when you are! A unique and economical approach to owning your own mobile business.
All of our standard cargo bikes come with:
7 speeds (for those hilly places, or for when you need to get your treats somewhere fast!)
Multiple braking mounts (for a balanced slow down and strong stopping power!)
A reinforced folding frame for ease of transport (see our blog for fitting one of our bikes into a Honda Element!)
Easily customized, insulated box (for keeping stuff nice and icy!)
The Standard Icicle Tricycles Cargo Bike is easy to pedal and eye catching! Prospective vendors are always surprised at how easy our cargo bikes are to pedal!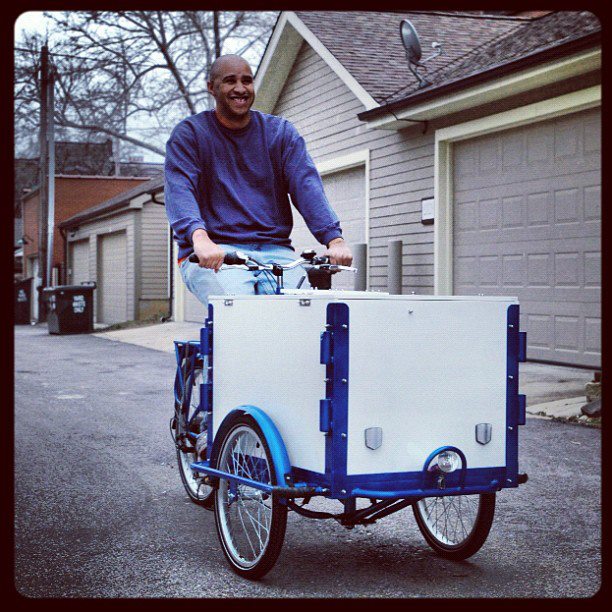 All of our bikes are built and rigorously tested in-house, by a dedicated and knowledgeable shop build team.
Icicle Tricycles takes pride in our craftsmanship, with a strict build protocol to ensure a safe, properly operational, and easy to ride cargo vending bike.
Sell your product with the security of an Icicle Tricycle bike build as the foundation for your mobile business. Your mobile bike business should be a smooth operation, and we believe the ride should be too!
We ship all over the U.S, Canada, and beyond! Contact us with any questions about your mobile cargo bike business needs, big or small! We are happy to share our cargo bike business advice!
[box]Please contact us to get your custom cargo trike rolling! »[/box]