Icicle Tricycles Sells New and Used Ice Cream Bikes!

We have a passion for ice cream bikes! In addition to our new vending bikes and custom cargo trikes, Icicle Tricycles sells refurbished and used ice cream bikes. If we see one of our beloved Icicle Tricycles Ice Cream Bike up for sale somewhere, we try and get it back to our shop for an overhaul. Yup, that's right, we occasionally have a used ice cream bike for sale! An Icicle Tricycles legend! Refurbishment and extensive testing to re-build it back to new! Then it's shipped to you, fully constructed and ready to roll when it arrives! Just hop on and roll out. That's it!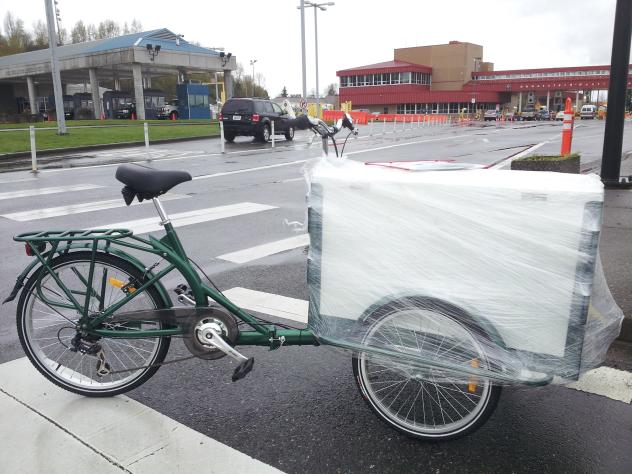 Just as good as new, but with a story! Still inspected, test-driven, and as fully operational as our new bikes, yet with previous experience rolling and selling ice cream. An added benefit if you prefer a bike with some road time under its belt! An ice cream bike with built-in stories! We carry used ice cream bikes in our standard model, offering frame colors and panel construction by availability only. Sometimes we have our custom wood panel ice cream bikes in our used stock – either from a temporary ice cream advertising fleet or for one of our demos. What we have is what you get. A fully inspected and pre-owned Icicle Tricycles Ice Cream Bike. A low-overhead, environmentally sustainable, carbon neutral, mobile ice cream business solution with history!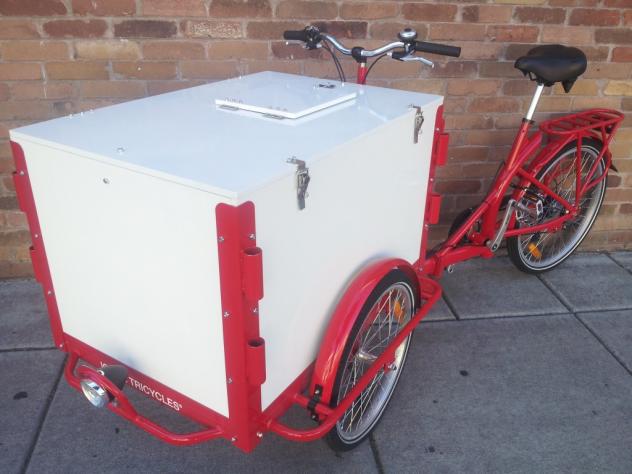 The Icicle Tricycles Ice Cream Bike is ideal for catering warm summer events with cold snacks. Ride in and hand out icy treats at weddings, birthdays, family reunions, and private parties in style! Our Ice Cream Bike is also a perfect mobile business for farmers markets, sporting events, public parks, or anywhere else someone is looking to buy ice cream. Contact us today to get your used ice cream bike rolling!
Here at Icicle Tricycles, we take our ice cream bikes all over town, delivering frozen snacks to retirement homes, baseball fields, schools, parties, and even inside convention centers and hotels! (Yes, that's right. Our ice cream bikes can fit through most ADA standard door and hallways, and with excellent maneuverability!). Avoid the expense and hassle of ice cream trucks or brick and mortar locations. Gasoline?! No Way. Traffic jams?!! Goodbye! Expensive building?! Rent? Static locations?!! Why?? Be your own boss with an Icicle Tricycle Used Ice Cream Bike! Contact us to roll out your used popsicle or ice cream bicycle.
All of our Used Icicle Tricycle Ice Cream Bikes come fully equipped with:
7 speeds – for those hilly places, or for when you need to get your treats somewhere fast!

multiple braking mounts – for a balanced slow down and strong stopping power.

A parking brake – have your business roll when you want it to!

reinforced folding frame for ease of transport – see our blog for fitting one of our bikes into a Honda Element!

easily customized, insulated box – for keeping your sweet treats nice and icy, and all day long!
Easy to pedal and eye catching! Prospective ice cream cart vendors are always shocked at how simple our ice cream tricycles are to pedal! Sell your product with the security of an Icicle Tricycles cargo bike build as the foundation for your ice cream business. Your mobile ice cream business should be a smooth operation, and we believe the ride should be too! Contact us to get rolling!
In addition to our used ice cream bike models, we offer custom builds, with custom graphics and frame colors. Your color, your style, your logo! Be your own business, your own boss, and get the bike you really want. Not a complicated franchise pyramid scheme. Why settle for prefabrication and franchise limitations?! Be your own business and be your own boss – a mobile boss! Own an Icicle Tricycles machine.
Contact us with any questions about your ice cream bike business needs, big or small! We are happy to share our ice cream bike business advice!
Canadian Customers, please check out Icicle Tricycles Canada!
[su_button url="http://www.icicletricycles.ca/" style="soft" background="#a02c30″ color="#ffffff" size="8″ center="yes" icon="https://icetrikes.com/wp-content/uploads/2019/12/faviconlarge.png" icon_color="#ffffff"]Icicle Tricycles Canada[/su_button]
[box]Please contact us to get your ice cream bike rolling! »[/box]