Mobile Mavens Pop-Up Bike Pops and Icicle Tricycles as a Pop-Up Shop.
Icicle Tricycles is pro pop-up shop! Meet the Mobile Mavens and their Pop-Up Bike Pops. Dedicated to mobilizing the sweet treats of your dreams, Mobile Mavens make Seattle just that much cooler. Delivering ice-pops all over town – at the beach, near the fountains, and even inside classrooms! The Mobile Mavens create pop-up popsicle havens!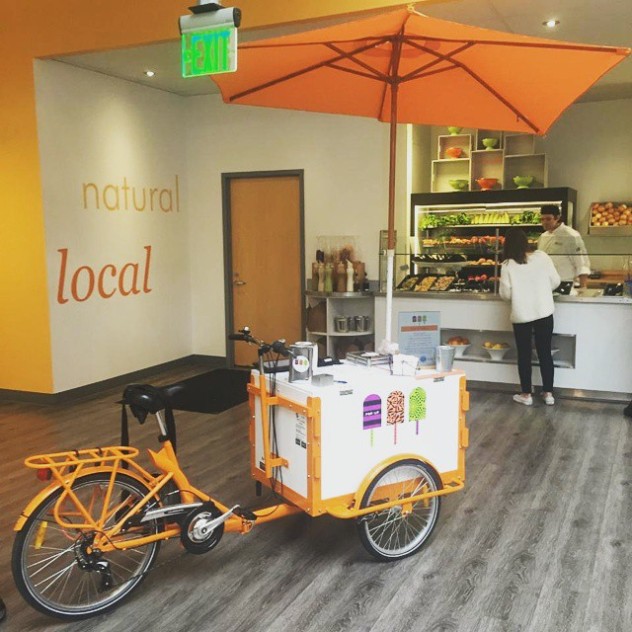 The age old tradition of delivering cool treats by bike just got a little cooler. With the advent of social media and new protected bike-lane highways popping up in cities everywhere, the ease of doing business on a bike is just getting easier.
Just as well, with the rising popularity of pop-up shops and local farmers markets, more and more opportunities for new business ideas are unfolding. What better way to start a pop-up shop than with a compact commercial folding frame cargo bike?! Built to your specifications and shipped to you fully constructed and ready to roll!
A message of nutritional tidings from the seat of a familiar and friendly vehicle.
No better way to explore pop-up shop food culture than to promote nutrition, health, and wellness by doing business from a bike! A pedal powered business that's a tool to keep fit and ready to roll out your business message anywhere you can pedal!
Also a relaxed advertising platform. A non-obtrusive way to get the word out and a promoter of freewheeling independence! A solution to the demand for convenience and expediency. The bike lane becomes your unclogged business highway! No need to lock yourself to the land in a brick and mortar, when you can roll over it!
Contact us today to get your pop-up shop rolling. The opportunity to start your dream business, help and serve community, as well as corner the market! A compact pop-up shop bike that's easy to operate, a breeze to ride, and with a front load cargo box that screams options! Spacious, balanced, and built to your specifications, we mod your trike to market your business the way you want and help you to design a pop-up that fits your product the way you need. Contact us when your'e ready to set-up shop!